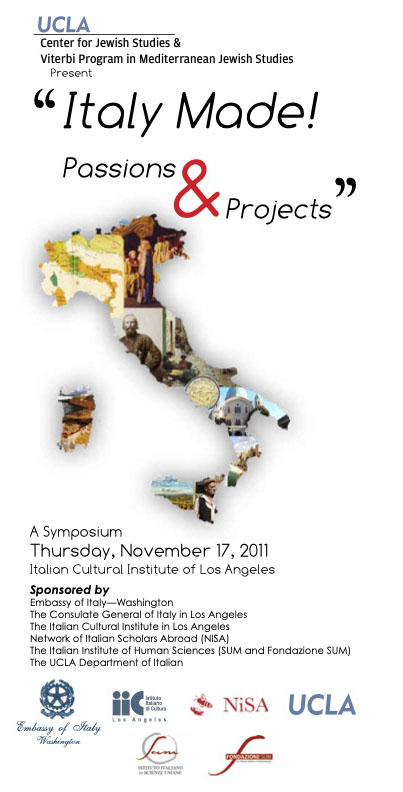 This symposium, "Italy Made! Passions & Projects," marks the 150th anniversary of the Unification of Italy and will be held at the Italian Cultural Institute in Los Angeles on Nov. 17. This event will be cosponsored by the UCLA Center for Jewish Studies and gather scholars from Italy and the U.S. to examine the surprising role that passions, poetry, music and Jewish leadership played in the unification of Italy.
Jews have lived in Italy from Roman times and played a critical role in shaping Italian identity. In the 19th and early 20th centuries, Jews were one of the most fervent nationalist groups in the nascent Italian State as they hoped unification and liberalism would lead to equal rights and a new form of citizenship. Italy was one of the last countries in Europe to eliminate the ghetto with the liberation of Rome in 1870 as part of the Italian unification movement. 
"Thanks to the commitment of the President of the Italian Republic, Giorgio Napolitano, the anniversary has been a highly significant occasion to reassert the value of a modern, democratic, united nation, within the European Union," according to Political Science Professor Giulia Sissa, the conference organizer.
"To be Italian is not easy," she noted. "We are always negotiating our interrupted history and our paradoxically divisive national project. Such an unconventional, unfinished identity requires more than celebration and self-praise: our conference will question the passions that made Italy and make the Italians—those that are still missing and those that are, alas, overwhelming."
Scholars will reflect on the role played by the Jews of Venice in the 1849/50 revolution; the self-representation of Italian Jews from 1861 to 1918; and the role of music and opera composed and performed by Jews in cultivating national identities.