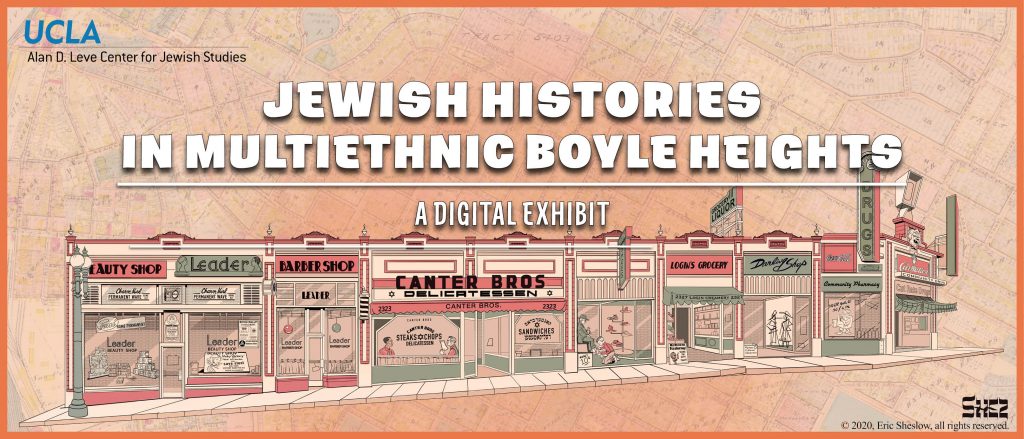 In the 1930s, Boyle Heights—with its main throughway, Brooklyn Avenue—was home to some 10,000 Jewish households, about a third of the Los Angeles Jewish population and the highest concentration of Jews west of the Mississippi. Jewish community life flourished with dozens of synagogues, charitable institutions, cultural organizations, schools, and community centers, not to mention Jewish-owned bakeries, kosher butcheries, delis, restaurants, and movie theaters. This vibrant Jewish community emerged in a multiethnic context, in one of the most diverse neighborhoods in Los Angeles called home by thousands of Mexican, Japanese, Armenian/Turkish, Italian, Russian, and African American families. Using archival materials shared by a variety of museums, libraries, and community partners, this digital exhibition aims to locate Boyle Heights' Jewish histories within this multiethnic context, revealing both the diversity of Jewish experiences in Boyle Heights and the ways those experiences coincided with, and diverged from, those of the other diasporic communities that settled there.
In the years after World War II, as construction began on a series of freeways and public housing projects in and around the neighborhood, Jewish residents began leaving Boyle Heights en masse. By the 1960s, the neighborhood was home to a Mexican American majority, whose experiences with social and economic marginalization, police violence, and urban renewal were different than those of residents before them. And yet, many patterns of resistance, cultural expression and community organizing endured, taking new and dynamic forms. To celebrate this efflorescence of Chicano/a cultural and political activity, Brooklyn Avenue was renamed Avenida César Chávez (César E. Chávez Avenue) in 1994 and a portion of the street designated as the Brooklyn Avenue Historic Neighborhood Corridor. By bringing the many, overlapping layers of the neighborhood's past into focus, "Jewish Histories in Multiethnic Boyle Heights" invites users to think critically about how an array of stakeholders—both within the neighborhood and without—have generated and enacted ideas about its religious, social, and cultural identity and how the Jewish community's relationship to the neighborhood has changed over time.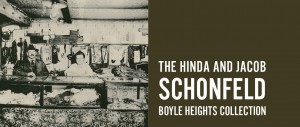 In 2015, the UCLA Alan D. Leve Center for Jewish Studies initiated a multi-year project dedicated to documenting and preserving the neighborhood's Jewish past. At its foundation is an ongoing effort to build the Hinda and Jacob Schonfeld Boyle Heights Collection, a research and teaching archive of artifacts and materials related to the history of the neighborhood. Made possible by a generous gift from Alan D. Leve, the collection is named in honor of his Romanian grandparents Hinda and Jacob, whose entrepreneurial spirit took them from Chicago to Denver, where they sold sundries at county fairs, then to Columbus, New Mexico, where they owned a mercantile store, and finally to St. Louis Street in Boyle Heights in 1925, where Mr. Leve was born. The Center has partnered with the UCLA Library to seek and solicit donations of historical materials to grow the Schonfeld Collection, and if you have memories or materials you would like to share – such as photographs, letters, yearbooks, scrapbooks, keepsakes from clubs, newspapers, or ritual objects – please email collectingjewishla@gmail.com or call (310) 825-5387.
The following year, drawing on materials from the Schonfeld Collection and dozens of other partner institutions, the Leve Center and debuted its first physical exhibition, "From Brooklyn Avenue to Cesar Chavez: Jewish Histories in Multiethnic Boyle Heights," at UCLA's Royce Hall. Centered on Brooklyn Avenue – Boyle Heights' main commercial thoroughfare (now known as Cesar Chavez Avenue) — the exhibition highlighted both the diversity of Jewish experiences in the neighborhood and the ways those experiences coincided with, and diverged from, those of the other diasporic communities that settled there. It emphasized five themes — Language and Literature, Religion and Community, Music and Arts, Education and Youth, and Labor and Activism— using digital technologies and archival materials to show how Jews and other residents participated in civic life, cultivated community, and in overlapping ways, created new American identities.
With support from the University of California's Humanities Research Institute, the Leve Center also hosted a series of community events celebrating Boyle Heights' past, present and future, each based on a theme from the exhibition. The event series culminated in a celebration of the installation of the exhibition at the Breed Street Shul, the largest (and only remaining) synagogue in the neighborhood, where it remains. Portions of the exhibition were also displayed at Los Angeles' City Hill as part of the inaugural "Jewish Cultural Heritage Month" celebration in May 2017.