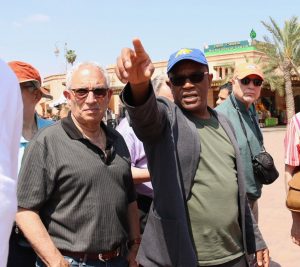 The Leve Center is a leader in the field of Moroccan Jewish Studies, with impressive numbers of affiliated scholars, doctoral students, and alumni conducting research in the field and outreach locally and internationally.
Here we showcase the Center's involvement in a new movement to translate into Arabic English-language scholarship on North African Jewish communities in general and Moroccan Jews, in particular. This movement emerges out of our efforts to build partnerships with Moroccan colleagues and universities.
Though the Arab world was home to one of the world's largest Jewish communities until the middle of the twentieth century, Middle Eastern universities rarely pay attention to the histories or cultures of these communities. The topic of Jews of Middle Eastern Jewry has been at the margins of North African histories and educational textbooks, but for a few exceptions.
At the same time, American historians and anthropologists have been at the forefront of a booming field of North African and Middle Eastern Jewish Studies. California, and UCLA in particular, have emerged as a hub for this field, boasting more scholars of the topic than any other region of the country. For some years now, scholars and students of North African and Middle Eastern Jewries working across California (including many of UCLA's own) have gathered together twice annually as "CalJemm" (the California Working Group on Jews in the Maghrib and the Middle East), organized by Professors Jessica Marglin (USC) and Emily Gottreich (UC Berkeley).
Working with colleagues in Morocco, Leve Center faculty are now producing Arabic-language scholarship on North African Jews. This work will reach a growing student population in Morocco interested in North African Jews and Jewish Studies in general.
Aomar Boum's Memories of Absence, How Muslims Remembers Jews in Morocco (Stanford UP, 2013) and Sarah Abrevaya Stein's Ostrich Feathers, Jews, and a Lost World of Global Commerce (Yale UP, 2008) were both translated into Arabic by Khalid Ben-Srhir, a scholar and translator whose work has won numerous prizes in Morocco. Ben-Srhir, a specialist of British-Moroccan historical relations and Professor of Arts and Humanities at the Mohammed V. University in Rabat, is a trailblazer in translating academic works into Arabic. His list of translations include influential titles in the field of Moroccan Jewish history by Susan Miller (UC Davis), Emily Gottreich (UC Berkeley), and Daniel Schroeter (University of Minnesota).
UCLA is already a leading international hub of North African Jewish Studies. Through further collaborations within California and across the North African academy, the Leve Center will serve as a pivotal destination for students, scholars, and community partners interested in the study of North African Jews.
– Aomar Boum