UCLA, already an unparalleled institution for the study of Mediterranean and Middle Eastern Jewry, is now, through the Sephardic Archive Initiative, building an archive with UCLA Library Special Collections.
Los Angeles is home to one of the oldest, most important, and largest Sephardic communities in the United States. While archives and libraries dedicated to preserving materials of the Jewish past have tended to lay emphasis on Central and Eastern European Jewish histories, far less institutional attention has been devoted to preserving documents and objects of the Mediterranean and Middle Eastern Jewish (or "Sephardic") past. Currently, few archives, libraries, or museums in the United States maintain a significant collection dedicated to Sephardic Jewish history.
The UCLA Sephardic Archive Initiative, launched in the spring of 2015, aims to reverse the historic neglect of the Sephardi past by:
work with partners in the UCLA Library Special Collections to identify collections of interest
help UCLA Library Special Collections accession material sources related to Sephardic heritage
through open-access, online exhibits, use these collections to share the history and culture of Sephardic California with students, scholars, and an international user public
The UCLA Sephardic Archive Initiative, directed by Professor of History and Maurice Amado Chair in Sephardic Studies Sarah Abrevaya Stein, a scholar possessing at once a local expertise and a global focus, is well poised to safeguard and steward one of the most important collections of Sephardi Jewish life in the world – based in Los Angeles.
Read a more detailed description of the project by Max Modiano Daniel (Lead Researcher, 2017-2018) published in Judaica Librarianship.
The SAI has worked with UCLA Library Special Collections to help it acquire the major archival holdings of the Sephardic Temple Tifereth Israel, an institution whose roots reach back to the second decade of the 20th century and the beginnings of Sephardic settlement in Los Angeles, now currently open to the public. Other recent acquisitions include the Moreno and Dagmar Gabay Book Collection, which includes over 150 volumes of Sephardic religious and devotional works written in Hebrew and Ladino and published between the 17th and 20th centuries in the centers of Ottoman and Italian Jewish publishing, and the papers of Al and Rose Finci, which provides an intimate portrait of a couple whose paths criss-crossed Hitler's Europe – in Yugoslavia, Poland, and Italy – and who established themselves in Los Angeles after the Holocaust.  Finally, we are thrilled that Special Collections has recently received the Danielle Avidan and Anna Mireille Abitbol Archive, which documents the lives of an Algerian-born painter and photographer and her Moroccan-born daughter as they witnessed war, decolonization, art and fashion on three continents. All three of these collections have been deeded to UCLA Library Special Collections.

In February 2020, the SAI launched its first digital project celebrating 100 years of Sephardic life in Los Angeles.  This rich collection of 25 multimedia essays showcases the vibrancy of Sephardic culture in the City of Angels, shedding light on its astonishing diversity past and present. We explore the intersecting migratory, cultural, and urban histories of Jews from across the Mediterranean and Middle East, from Iraq and Iran to North Africa, Ottoman Anatolia and the Balkans (as well as the post-Ottoman states of Turkey, Greece, Yugoslavia, Palestine, Syria, and beyond). Los Angeles thereby holds the key to a complex story of Jewish migration and urban diversity, one in which multiple Jewish diasporas met, collided, merged, and maintained their cultural distinction while nonetheless becoming threads of a larger California fabric.
"100 Years of Sephardic Los Angeles" offers glimpses of some of the most unique, noteworthy, and intimate aspects of this oft-overlooked part of the city's history. Our contributing authors include artists and curators, graduate students and established professors, historians, anthropologists, literary scholars, linguists, and musicologists – each considering how L.A.'s Sephardic community worked and relaxed, socialized and served their city, prayed and performed, and came to understand themselves as Jews and as Angelenos.
The Sephardic Archive Initiative is supported by the UCLA Alan D. Leve Center for Jewish Studies, the Maurice Amado Foundation, and the Maurice Amado Chair in Sephardic Studies. Additional support and seed funding provided by the Leve Center's Advisory Board, the Sady Kahn Trust the Viterbi Family Program in Mediterranean Studies, the University of California Humanities Research Institute (UCHRI), and the Haynes Foundation. Special thanks to the SAI Community Advisory Board: Marie Altchech, Raquel Bensimon, Art Benveniste, Rabbi Daniel Bouskila, Al & Rose Finci, Rochelle Ginzburg, Aron Hasson, Mike Hattem, Jim & Lori Keir, Elaine Lindheim, Hazan Haim Mizrahi, Carole Abrevaya Stein, Marcia Weingarten, Harry Zinn, and Jackie Slutsky (z"l).
The SAI would not be possible without our partners at UCLA Library Special Collections, including Sharon Farb, Athena Jackson, and Genie Gerard. Special thanks to David Hirsch, formerly UCLA's Judaice Librarian, and to Diane Mizrachi, the current Jewish and Israel Studies Librarian.
We have also partnered with Sephardic Temple Tifereth Israel (STTI), whose archives provide the backbone of our digital project, "100 Years of Sephardic Los Angeles." The assistance and support of Rabbi Sessler, Rabbi Bouskila, the STTI Executive Board, their Centenary Committee, and Temple Librarian Annette Goldsmith, and all of the community members who shared their memories and materials has been invaluable.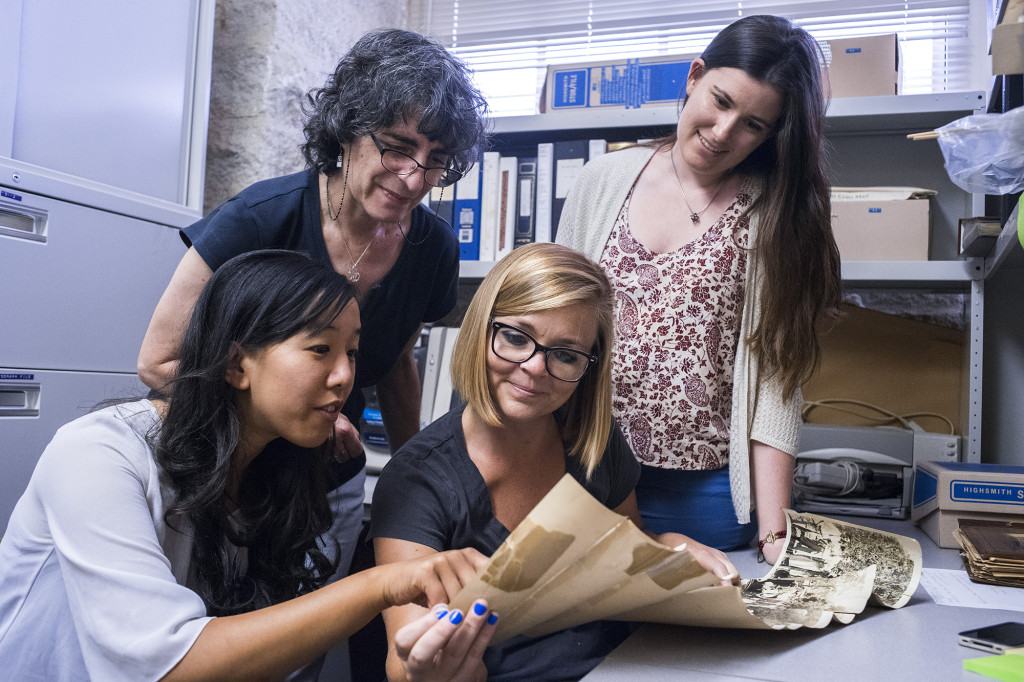 If you have family documents, photographs, or objects pertaining to Sephardic history that you might consider sharing with the Sephardic Archive Initiative, please contact Project Manager Chris Silver at sephardic@humnet.ucla.edu.
Professor Sarah Abrevaya Stein, Project Director
David Wu, Lead Designer
Marie Altchech
Raquel Bensimonz
Art Benveniste
Rabbi Daniel Bouskila
Al Finci z"l
Rose Finci
Rochelle Ginzburg
Aron Hasson
Mike Hattem
Jim & Lori Keir
Elaine Lindheim
Hazan Cantor Mizrahi
Jackie Slutzky z"l
Carole Stein
Marcia Weingarten
Harry Zinn