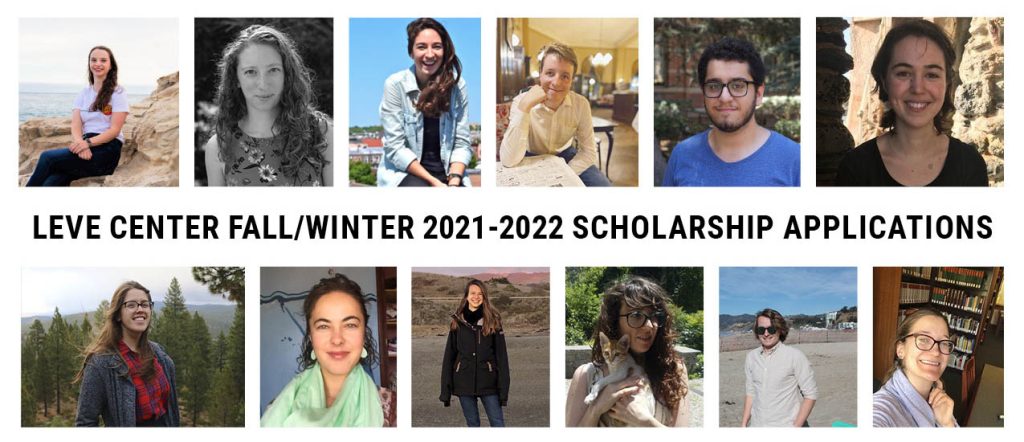 Leve Center Graduate Research & Travel Grants
The UCLA Alan D. Leve Center for Jewish Studies invites UCLA graduate students to submit an application for research, language study, and conference support. If you are applying for travel funds, please review any travel restrictions that may be in place due to COVID 19. Awards will be made from one of our Graduate Student Support funds (i.e., Maurice Amado, Bluma-Appel, Leve)
Graduate student grants (up to $2,500) can be used for research, conference travel, necessary equipment, and conference registration for graduate students associated with research or study in the field of Jewish Studies including Jewish history, Holocaust studies, archaeology, Sephardic studies, and more.
– AMOUNT: up to $2,500 (Funds must be used by 6/30/2022)
– REQUIREMENTS:
– submit online application by due date (11/17/21)
– description of research, conference, or project (up to 500 words)
– general budget
– names and contact info for 2 recommenders (UCLA Professors)
– disclosure about other streams of support
– home department contact info
– DEADLINE: November 17, 2021
Leve Center Undergraduate Research & Project Grants
The UCLA Alan D. Leve Center for Jewish Studies invites UCLA undergraduate students to submit an application for support of research projects, transforming a written paper into a digital project, blog, or art project; expanding a short paper into a longer, research paper, and developing a proposal for a senior honors thesis in the following areas:
– that apply the knowledge of the Jewish experience, and especially the lessons of the Holocaust, to
contemporary society and social justice issues
– Sephardic studies
– Jewish studies
– civic engagement in any field of Jewish studies
– language study
– participation in programs/activities that help build understanding among Jewish and non-Jewish students
Awards will be made from one of our Undergraduate Student Support funds (i.e., Amado, Leve, Frey)
– AMOUNT: up to $2,500. Funds will be disbursed in December. Please check with Financial Aid to confirm that receipt of these funds will not affect your aid for the 2021-22 AY. If project is going to take place in the Spring/Summer, please apply for the Spring/Summer cycle. Funds must be used by 6/30/2022.
– REQUIREMENTS:
– submit online application by due date (11/17/21)
– description of research or project (up to 500 words)
– general budget
– names and contact info for 2 recommenders (UCLA Professors)
– disclosure about other streams of support
– home department contact info
– copy of FAFSA (email to levecenter@humnet.ucla.edu by 11/17/21)
– DEADLINE: November 17, 2021
For more detailed information about each award, please email levecenter@humnet.ucla.edu