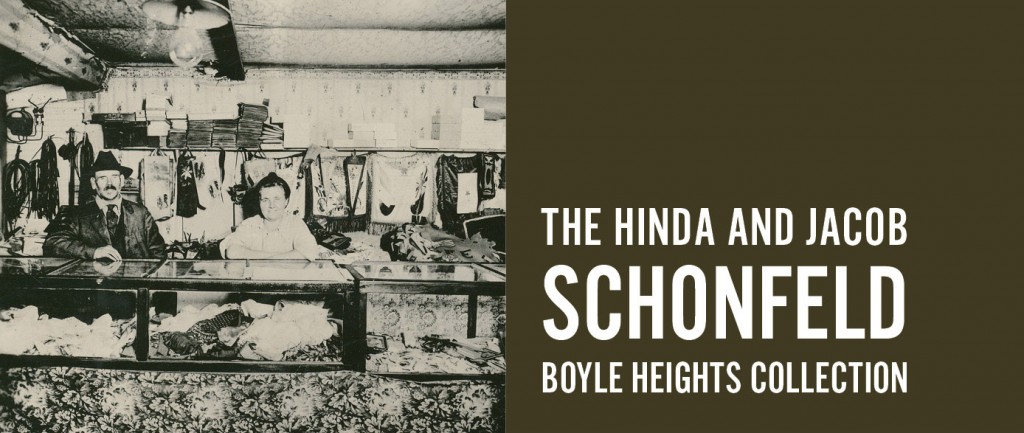 As part of the UCLA Alan D. Leve Center for Jewish Studies broader Mapping Jewish LA project, the Hinda and Jacob Schonfeld Boyle Heights Collection is a research and teaching archive of artifacts and materials related to the history of the neighborhood. The Leve Center Schonfeld Collection will host a series of related public history programs, including lectures, exhibitions, tours, and courses addressing the history of Jewish Los Angeles.
The Center is partnering with the UCLA Library to seek and solicit new donations and oral histories to the Schonfeld Collection. If you or your family has a tie to Boyle Heights and you have memories or materials you would like to share, such as photographs, letters, yearbooks, scrapbooks, keepsakes from clubs, newspapers, or ritual objects, please email collectingjewishla@gmail.com or call (310) 825-5387.

The Schonfeld Boyle Heights Collection has been made possible by a generous gift from Alan D. Leve, who named the collection after his Romanian grandparents Hinda and Jacob, who moved to Boyle Heights in 1925. Emblematic of the American Jewish journey west, the Schonfelds' entrepreneurial spirit took them from Chicago, Illinois, to Denver, Colorado, where they sold sundries at county fairs, and then to Columbus, New Mexico, where they owned a mercantile store. Seeking a better climate, Hinda and Jacob eventually settled in Boyle Heights. Mr. Leve was born in Boyle Heights and lived next door to his grandparents on 334 1/2 St. Louis Street, half a block away from Brooklyn Avenue. His gift serves to ensure that scholars and students will not forget the history and significance of the neighborhood that is so dear to him and to so many others.