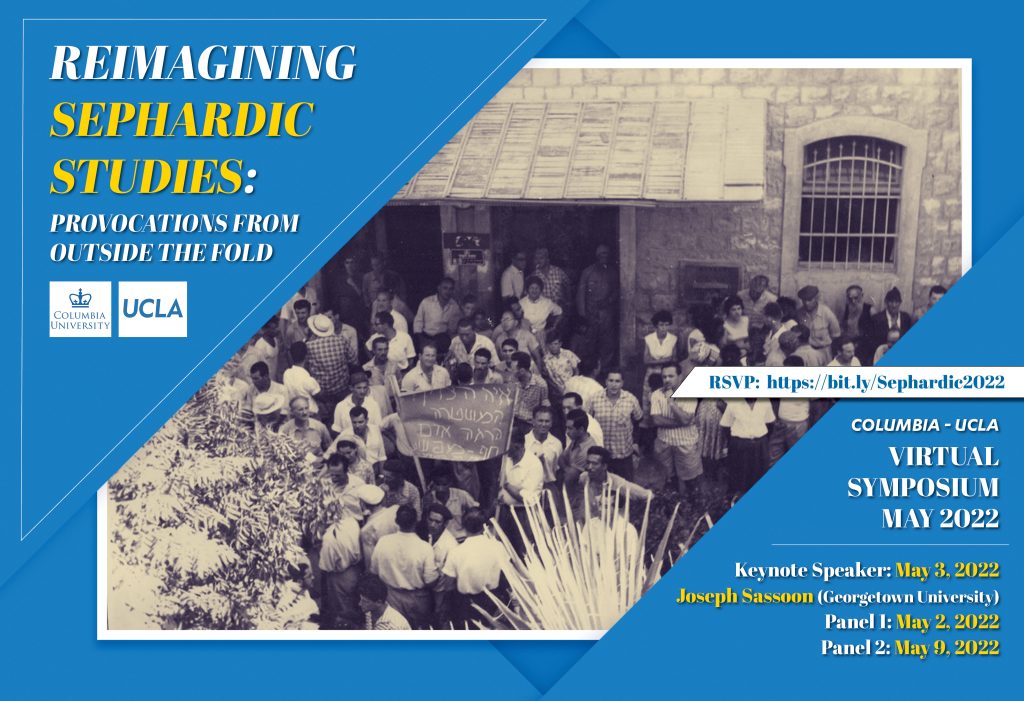 Reimagining Sephardic Studies: Provocations from Outside the Fold
A Columbia-UCLA Virtual Symposium
Graduate Student Organized Webinar
To register, please visit: https://bit.ly/Sephardic2022
Monday, May 2, 2022
Disciplinary Futures: African (Jewish) Studies
9:00 AM PST // 12:00 PM EST
Panel Description: While North African and Ethiopian Jewish histories are rarely discussed together, this panel highlights how state, communal, and academic institutions construct difference across African Jewish communities.
Panelists:
Adane Zawdu Gebyanesh, Postdoctoral Research Fellow, Van Leer Jerusalem Institute
Efrat Yerday, Ph.D. Candidate, Tel Aviv University
Rachel Smith, Ph.D. Candidate, UCLA
Brahim El Guabli, Assistant Professor of Arabic Studies and Comparative Literature, Williams College
Respondents:
Kristin Hickman, Croft Assistant Professor of Anthropology and International Studies, University of Mississippi
Bryan Roby, Assistant Professor, Judaic Studies, University of Michigan
 State Violence and Assimilation
12:00 PM PST // 3:00 PM EST
Panel Description: This panel examines the politics of incorporation and political belonging that characterize the relationship of Jewish communities and other minoritized groups within burgeoning and postcolonial nation-states from Iran to Morocco.
Panelists:
Nesi Altaras, journalist and editor of Avlaremoz
Sophie Levy, editer, writer, painter, and founder and co-Editor-in-Chief of ZAMAN Collective
Neda Bolourchi, Post-Doctoral Assistant Professor of Middle Eastern Studies, Rutgers University-New Brunswick
Isa Knafo, researcher, publication designer, and documentary filmmaker
Respondents:
Sherene Seikaly, Associate Professor of History, University of California Santa Barbara
Lior Sternfeld, Associate Professor of History and Jewish Studies, Penn State University
 Tuesday, May 3, 2022
Keynote Address
9:00 AM PST // 12:00 PM PST
Joseph Sassoon, Professor of History and Political Economy and Director of the Center for Contemporary Arab Studies, Georgetown University
"The Sassoons: The Global Merchants who Built an Empire"
Respondent: Mark Mazower, Ira D. Wallach, Professor of History, Columbia University
Monday, May 9, 2022
Relational Approaches to History in Ottoman Studies
9:00 AM PST // 12:00 PM EST
Panel Description: This panel examines new methodological approaches within Ottoman Studies that seek to expand how historians conceptualize social and economic processes of difference-making both within and across religious groups.
Panelists:
Canan Bollel, Ph.D. Candidate, University of Washington
Kaleb Herman Adney, Ph.D. Candidate, UCLA
Oya Aktaş, Ph.D. Student, University of Washington
Nancy Ko, Ph.D. Student, Columbia University
Respondents:
Andreas Guidi, Fellow at the German Historical Institute
Devin Naar, Associate Professor in History and Sephardic Studies Program Chair, University of Washington
Ethnic Studies, Jewish Studies, and Palestine
12:00 PM PST // 3:00 PM EST
Panel Description: This panel examines how the concept and histories of Jews of Color have been politicized across varying contexts, including within historic activist networks like the Black Panthers in Israel-Palestine and recent debates around Ethnic Studies at the university and beyond.
Panelists:
Vincent Calvetti, Ph.D. Student, University of Washington
Ryan Zohar, Librarian, Middle East Institute and MA/MLS Student, New York University
Jessie Stoolman, Ph.D. Candidate, UCLA and Maxwell Greenberg, Friedman Postdoctoral Fellow in Jewish Studies and Jewish, Islamic, and Middle Eastern Studies, Washington University in St. Louis
Respondents:
Evyn Lê Espiritu Gandhi, Assistant Professor of Asian American Studies, UCLA
Keith Feldman, Associate Professor of Comparative Ethnic Studies, University of California, Berkeley
UCLA Graduate Student Conveners: Rachel Smith (History) & Jessie Stoolman (Anthropology)
Columbia Graduate Student Conveners: Nancy Ko (History)