Podcast
While most historians would agree as to the centrality of sports in general and of soccer in particular in Latin American societies, very little has been written on ethnicity and sports in such immigrant societies as Argentina and Brazil. As far as the historiography of the Jewish experience in Latin America is concerned, hardly any scholarly works exist that are devoted to popular culture, particularly that of unaffiliated Jews.
Raanan Rein examines Argentine football as a space of both prejudice and dialogue. Rein argues that for the first immigrant generation, belonging to this club was a way of becoming Argentines. For the next generation, it was a way of maintaining ethnic Jewish identity, while for the third it has become a family tradition.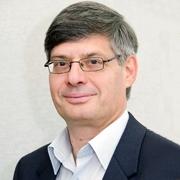 Raanan Rein
(Tel Aviv University)
Dr. Raanan Rein is the Elias Sourasky Professor of Latin American and Spanish History and Vice President of Tel Aviv University. Rein is the author and editor of more than thirty books and well over a hundred articles in academic journals and book chapters. He is a member of Argentina's National Academy of History, and former President of the Latin American Jewish Studies Association (LAJSA).
His most recent books include Futbol, Jews, and the Making of Argentina (Stanford University Press, 2015) and the co-edited volumes Muscling in On New Worlds: Jews, Sport, and the Making of the Americas (with David Sheinin, Brill, 2015), and Rethinking Jewish-Latin Americans (with Jeffrey Lesser, University of New Mexico Press 2008)
Featuring
John M. Efron
(UC Berkeley)
Sponsored by
UCLA Center for Jewish Studies
UCLA History Department
Cosponsored by
UCLA Center for Near Eastern Studies
UCLA Center for the Study of Religion