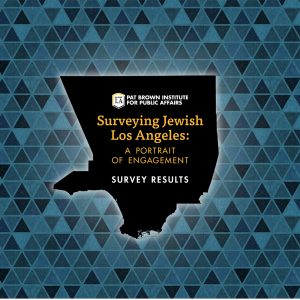 In October, the Pat Brown Institute for Public Affairs at Cal State Los Angeles released the results of its recent poll of Jewish voters in Los Angeles. The poll was conducted as part of a groundbreaking, multi-year survey project launched in 2016 to explore the social and political orientation of four major ethno-racial communities in Los Angeles – Jews, African Americans, Asian Americans, and Latinos. Of particular interest to the project are the generational transformations unfolding within each community and how the political attitudes and engagements of younger voters differ might shape Los Angeles and the country as a whole in the future. The Jewish community poll included nearly 1800 individuals who varied in terms of age, gender, religious observance, and partisanship, offering new insights about the attitudes of Jewish voters towards a variety of topics including the State of Israel, gun control, same-sex marriage, immigration and the threat of anti-Semitism.
The Leve Center was honored to attend the Pat Brown Institute's survey briefing on October 3rd, where we spoke with the Project Manager of the Jewish community survey, Dr. Max Baumgarten, an alumnus of the UCLA History Department and the Leve Center's Jack H. Skirball Fellow in Modern Jewish Culture, 2016-2017. We've lightly edited his comments below and you can also read more of the Topline Results and Key Findings from the survey here.
1) So Max, you're a UCLA Alumnus, can you tell us about how you were involved with the Leve Center and/or Jewish Studies at UCLA?
The Leve Center provided me valuable support during my graduate years. I served as the Center's Jack H. Skirball Fellow in Modern Jewish Culture during the 2016-2017 academic year and as a Summer Research Fellow in 2015. I also developed a digital exhibit about the history of the Beverly-Fairfax neighborhood, "In Search of Fairfax," for their Mapping Jewish LA project.
2) And you studied Jewish political engagement as part of your dissertation research, right? Can you tell us a bit about your project?
My dissertation project examined Jewish politics in Los Angeles during the final decades of the 20th Century; I traced the intensification of local Jewish political activity and the factors that led to Jewish disengagement from local political and civic affairs. Starting in the mid-1960s, numerous Jewish community leaders, activists, and journalists increasingly invested in the local political arena and championed the idea that Jews should and could mesh their distinct ethnic concerns with broader civic ones. Yet, due to inter-and intra-group tensions as well as a heightened interest in national and international issues, the organized Jewish community gradually pulled away from the local political scene by the late 1980s.
3) Do you see some of those same dynamics playing out in these poll results? What were some of the points of/areas of consensus you identified?
Part of my research looked at the emergence of the Holocaust as focal point of Jewish communal life and identity in Los Angeles, both as a way to preserve the memory of the six million and to confront contemporary anti-Semitism. The PBI poll showed that these efforts were ultimately successful; 95% of Los Angeles County's Jewish voters stated that remembering the Holocaust is either an essential or important part of being Jewish.
4) What results surprised you the most?
The demographic diversity of the respondents took me by surprise. Although Jews are often characterized as affluent, we found that Jews—like all Angelenos—have been affected by the housing crisis: 40% rent, 7% live with family, and 1% don't have stable housing. And complicating the assumption that Jews are simply "white," we found that 6% of Jewish voters in Los Angeles identify as Latino or Hispanic.
5) With elections coming up next week and the presidential primaries in March, how do you think candidates and elected officials might make use of this poll, not only the Jewish piece but the polling project as a whole?
This is a great question! I am not a political consultant but would encourage political candidates to recognize that no community is homogenous. We surveyed Asian Americans, Latinos, African Americans and Jewish voters and found important differences across all four groups based on age, gender, and religiosity.
6) Last question, your survey has a lot to say about Jewish media habits and how Jewish voters get their news about politics and world events. But I imagine the last thing you want to do when you get home these days is read about political news. What are you enjoying reading right now?
I am in the middle of two books right now: Fleishman Is In Trouble by Taffy Brodesser-Akner and Trick Mirror: Reflections on Self-Delusion by Jia Tolentino.