This seminar is based on an unpublished MS of a novel, written in 1923 by Sara Rappeport (1890-1980) member of kibbutz Beit Alpha, entitled: "The Wives of Sheikh Husseini." This exceptional novel describes a love affair between a kibbutz member and an Arab Sheikh that ends in marriage, a baby boy named Ishamel, and membership in the Haifa branch of the Palestine communist party. The word Lesbian appears in the novel and Nur explores its meaning and context. The use of the word "Lesbian" in Hebrew in Israel begins in the late 1950s. Going back to an isolated use of the word in 1923 can teach us something new about same-sex relations in the imagination of those who lived in mandate Palestine and in Israel. Dr. Nur will reconstruct the context in which this exceptional novel was written and the relationship of the writer with her literary mentor at the University of Goettingen during WWI: the German thinker Lou Andreas Salomé (1861-1937). Rappeport's novel realizes the particular variety of feminism that Salomé espoused.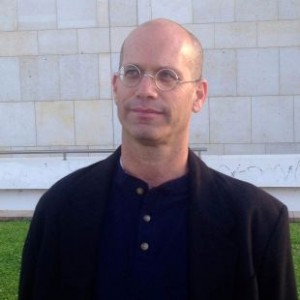 OFER NUR (Tel Aviv University)
Ofer Nordheimer Nur teaches at the Multidisciplinary Program in the Humanities and the NCJW Gender and Women's Studies Program at Tel Aviv University. Primarily a historian, he received his PhD in 2004 at the department of history at UCLA. He was a Post-Doctoral Fellow at the Centre d'Études Juives at the EHESS in Paris from 2003-2005 and at the Franz Rosenzweig Minerva Research Center at the Hebrew University of Jerusalemm from 2005-2007. He's the author of, Eros and Tragedy: Jewish Male Fantasies and the Masculine Revolution of Zionism (Academic Studies Press, 2014).
Moderator:
Sponsored by the
UCLA Alan D. Leve Center for Jewish Studies
Cosponsored by the
UCLA Y&S Nazarian Center for Israel Studies
UCLA Department of Near Eastern Languages & Cultures
UCLA LGBTQ Studies Program
UCLA Department of History