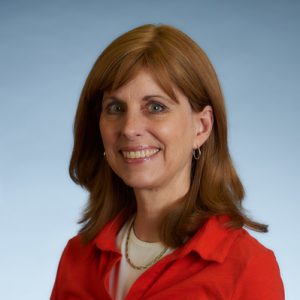 During her almost twenty years at UCLA, Diane Mizrachi has supported thousands of students and faculty in her capacity as librarian. Dr. Mizrachi began her time at UCLA as a Reference and Instruction Librarian in Powell Library, then moved over to Young Research Library to serve as a social science librarian. For the past three years, she has also served as the Jewish and Israel Studies librarian. 
How long have you been at UCLA? How long have you been affiliated with the Leve Center?
I began working at UCLA in 2002 as a Reference and Instruction Librarian in Powell Library. Ten years later, I moved to the Young Research Library as one of the social science librarians.  When my legendary colleague David Hirsch left UCLA in 2018, I was asked to take on his Jewish and Israel Studies responsibilities in addition to social sciences, and thus began my affiliation with the Leve Center.

What drew you to be affiliated with the Center? Are there any particular projects at the Leve Center that you are a part of?
In my position I try to support the library and research needs of all the projects and scholarship at the Leve Center. 
How did you come to be in the field of Jewish Studies? What does it mean to you as an intellectual, methodological, or professional project?
I did not learn Jewish Studies systematically but primarily through experiences and self-directed learning after my first trip to Israel in college. My graduate degrees are in Library and Information Science. At Bar Ilan University however, I had a class in Jewish bibliography and scholarship, which I was able to apply when I became responsible for the Judaica collection at Beit Berl College Library. Living in Israel for many years, exploring my husband's Middle Eastern family roots, reading about Jewish history in various eras and locations, and studying Jewish philosophical streams, especially Chabad Hassidism, has all been an education. Being Jewish means living Jewish, about which there is always something new to learn and explore.
How have the past 18 months of remote instruction affected your teaching and research?
In 2014, I initiated and led the Academic Reading Format International Study (ARFIS), the largest study to date exploring university students' attitudes towards reading academic texts in print and electronic formats. We gathered data from over 21,000 students in 33 countries, and recently published the final results. Last spring, I began a follow-up study with partners in the United Kingdom to investigate students' attitudes during the COVID restrictions when nearly all their academic reading material was only accessible electronically. We are now analyzing the data from that study.

It was challenging not to have access to the physical library collection for 18 months, circumstances which demanded major and immediate adjustments by me and all my colleagues. We had to limit our orders of print books because we did not have on-site staff to process them or pay vendors, and had to sustain or curtail many of our services during this time. We increased access to digital content through temporary arrangements with HathiTrust and by purchasing more electronic material. The library instruction sessions and consultations I held on zoom emphasized finding these online library resources, but I couldn't introduce students to working with physical material. During in-person instruction, I like to take cues from students' body language and other signs of engagement and adjust my pace and direction accordingly. I found the lack of this ability on zoom frustrating.
How are you feeling about the return to campus this fall?
I enjoy being on campus and being back in the library again! I feel comfortable teaching library sessions online now but still prefer in-person instruction. I like seeing the students, schmoozing with my colleagues, and feeding off everyone's energy.
What was the last country you visited (for research or for vacation)? When were you there?
I presented at a conference on digital reading in Regensburg, Germany, in November 2019. During this time, I also visited Munich and Dachau where I purchased material on Jewish topics for the UCLA Library. 
If you could sit down with any figure related to your research and another UCLA scholar, student, or alum, who would fill these chairs?
I'd love to sit with Professor Arnold Band and David Hirsch. Professor Band is not only a great scholar but was instrumental in developing and expanding the UCLA Library's Jewish Studies collection, and I'm sure David could add his own interesting perspectives to the conversation. Professor Yona Sabar and I used to have quarterly coffee breaks together during which we always discussed Hebrew language topics, and Israeli and Jewish-Kurdish history.

Describe a teacher who had a profound impact on your development as a scholar.
I had an amazing high school English teacher who taught us how to use the library and write research papers. He demanded a lot from his students and I tried to meet those demands. It was also in his class that I read Leon Uris' book Exodus, which first sparked my interest in Israel and Jewish history. We still keep in touch, and I have used some of his insights in my work. I am also very indebted to my doctoral advisor, Professor Marcia Bates, of the Information Studies department here at UCLA.
If you were not in academia, what type of job would you have and why?
I was a ballet major at the University of Utah for two years before switching to history, and then spent several years teaching dance and exercise in Israel. Nevertheless, I think my ideal job outside of academia would be in the antiquarian book trade where I could really focus on my love of books and history.