Sinister tales written since the early twentieth century by the foremost Hebrew authors, including S. Y. Agnon, Leah Goldberg, and Amos Oz, reveal a darkness at the foundation of Hebrew culture. The ghosts of a murdered Talmud scholar and his kidnapped bride rise from their graves for a nocturnal dance of death; a girl hidden by a count in a secret chamber of an Eastern European castle emerges to find that, unbeknownst to her, World War II ended years earlier; a man recounts the act of incest that would shape a trajectory of personal and national history. Reading these works together with central British and American gothic texts, Karen Grumberg illustrates that modern Hebrew literature has regularly appropriated key gothic ideas to help conceptualize the Jewish relationship to the past and, more broadly, to time. She explores how these authors employ and revise the gothic, originally a European mode associated with antisemitism, and how they use it to challenge assumptions about power and powerlessness, vulnerability and violence, and to shape modern Hebrew culture. Her innovative perspective on the Hebrew literary engagement with history sheds new light on tensions that continue to characterize contemporary Israeli cultural and political rhetoric.
---
Get to know our speaker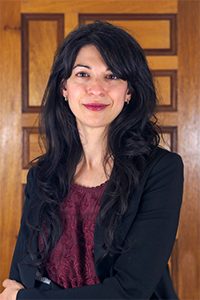 Karen Grumberg is Associate Professor of Hebrew and Comparative Literature in the Department of Middle Eastern Studies at the University of Texas at Austin, where she also serves as Director of the Center for Middle Eastern Studies. She earned her Ph.D. in Comparative Literature at UCLA in 2004. She is the author of Place and Ideology in Contemporary Hebrew Literature (2011, Syracuse University Press). Her essays have appeared in Prooftexts, Comparative Literature, and other journals. Currently, she is editing a special issue of Poe Studies on Poe in the Middle East, as well as a special issue of Dibur on Translational Transactions.
So you're a UCLA alumni – how did you get into Jewish Studies at UCLA?
I came to UCLA to study Hebrew literature with Arnold Band in the Comparative Literature department, so Jewish Studies naturally became an academic second home for me. Many of the Jewish Studies events were directly relevant to my studies, and introduced me to Ph.D. students working on related subjects in other departments.
What did the Leve Center (then known as the Center for Jewish Studies) mean to you during your time there?
The CJS was one of the centers of my intellectual world. CJS events, where I forged friendships I maintain to this day, were a hub for graduate students and faculty from across the university. The lectures, colloquia, screenings, and other events redefined what I thought of as Jewish Studies, illuminating the wide breadth of Jewish thought and culture and indicating their relevance to the world at large. One of the highlights of graduate school was when I was given the opportunity to organize an event, hosted by the Center, in honor of the Hebrew poet Yehuda Amichai, with lectures, a live musical performance, and a film screening. It was a memorable evening and an important experience that would not have been possible without the support and encouragement of the Center for Jewish Studies' faculty and staff.
Your previous writing and teaching examines the use of space and place in literature – how does this new work on Hebrew Gothic literature relate to those themes?
That's a good question; the two topics seem completely disconnected, but they're not. While my first book Place and Ideology in Contemporary Hebrew Literature (Syracuse University Press, 2011), focused on representations of place, Hebrew Gothic is in some ways its complement or companion, because it's all about time. Even the sections on gothic spatiality in Hebrew Gothic are ultimately about time. The gothic, as it emerges in Hebrew texts, offers a way for authors to engage with the Jewish past, to revise, recalibrate, and challenge its representation. But gothic spatiality is crucial to the aesthetic as a whole, helping to make literal the past's infiltration of the present as well as the processes of decay that indicate passing time. That's why it was important for me to include the chapter titled "Dark Jerusalem," dedicated to the gothic spatiality in Amos Oz's novel Mikhael sheli (My Michael).
What are you enjoying reading right now?
I've been very interested in theorizations of the Anthropocene and geologic time. Scholars in diverse humanistic fields are thinking about literature, film and art through the environment, and offering new models to think about human culture and violence. It's all still pretty new but very exciting.
Your book features spooky stories and sinister tales – what's your favorite ghost story?
Oh, this is really difficult. I like Edith Wharton's ghost stories very much. The Turn of the Screw, by Henry James. Toni Morrison's Beloved. Anything by Edgar Allan Poe…
Ok, last question: what are you going to be for Halloween?
It seems that this year I get to be Harry Potter's mother!