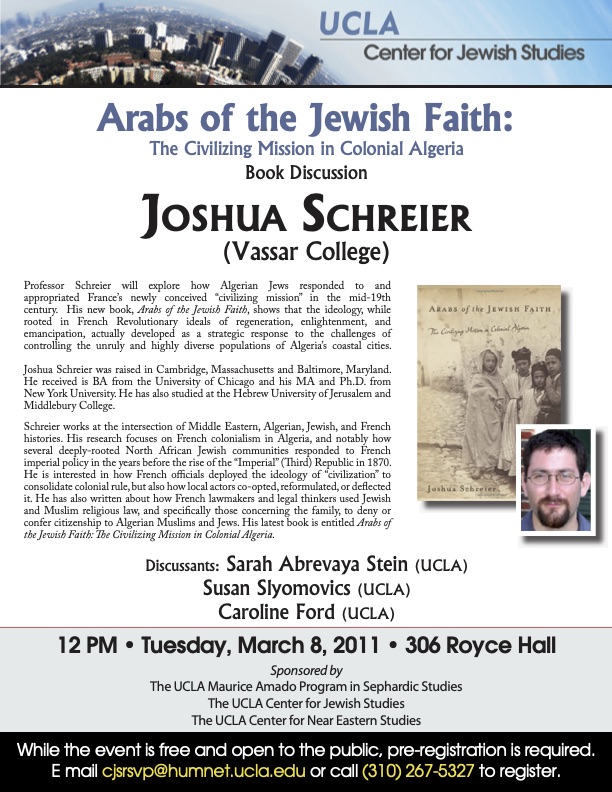 Professor Schreier will explore how Algerian Jews responded to and appropriated France's newly conceived "civilizing mission" in the mid-19th century. His new book, Arabs of the Jewish Faith, shows that the ideology, while rooted in French Revolutionary ideals of regeneration, enlightenment, and emancipation, actually developed as a strategic response to the challenges of controlling the unruly and highly diverse populations of Algeria's coastal cities.
Joshua Schreier was raised in Cambridge, Massachusetts and Baltimore, Maryland. He received is BA from the University of Chicago and his MA and Ph.D. from New York University. He has also studied at the Hebrew University of Jerusalem and Middlebury College.
Schreier works at the intersection of Middle Eastern, Algerian, Jewish, and French histories. His research focuses on French colonialism in Algeria, and notably how several deeply-rooted North African Jewish communities responded to French imperial policy in the years before the rise of the "Imperial" (Third) Republic in 1870. He is interested in how French officials deployed the ideology of "civilization" to consolidate colonial rule, but also how local actors co-opted, reformulated, or deflected it. He has also written about how French lawmakers and legal thinkers used Jewish and Muslim religious law, and specifically those concerning the family, to deny or confer citizenship to Algerian Muslims and Jews. His latest book is entitled Arabs of the Jewish Faith: The Civilizing Mission in Colonial Algeria.
Discussants:
Sarah Abrevaya Stein (UCLA)
Susan Slyomovics (UCLA)
Caroline Ford (UCLA)