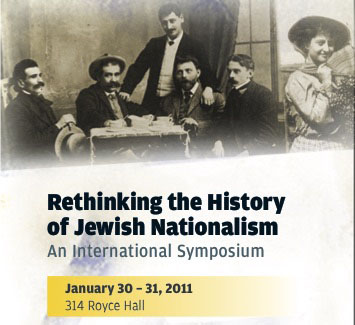 Convened by:
David N. Myers (UCLA) & Arieh Saposnik (UCLA)
Sponsored by:
The UCLA Center for Jewish Studies
The UCLA Younes & Soraya Nazarian Center for Israel Studies With support from the Joy & Jerry Monkarsh Family Fund
This conference highlights recent scholarship that challenges, enhances, and complements prior research on the history of Jewish nationalism.
In particular, scholars have sought to recover the crowded marketplace of Jewish nationalist ideas and ideologies in the early to mid-twentieth century and their place in the making of modern Jewish life. The eventual ascendance of Zionism over its rivals, and the establishment of a world center for Jewish historical research in Israel, have necessarily focused the preponderance of scholarly attention on Zionism. And yet, over the past decade, new perspectives have emerged that complicate the view that Zionism's triumph was either obvious or inevitable. At this symposium, leading scholars engaged in this work will assess the potential and possibilities of a new way of framing the history of Jewish nationalism.