Bread and other grain-based foods were not only staples in the ancient Israelite diet; they were also staples in the ritual acts that accompanied the worship of several deities in ancient Israel. In addition to the state god YHWH, who required regular offerings of lechem hapanim ("bread of the presence") in the Tabernacle and the Jerusalem Temple (Exodus 25:30, 39:36, 40:23; Leviticus 24: 5-9; Numbers 4:7; 1 Kings 7:48), the Queen of Heaven (Jeremiah 7:18, 44:17-25) was worshipped by families in Jerusalem and throughout Judah with cakes that were marked with her image. Although the biblical writers did not record the details of these practices, the remains of ritual activity in a variety of Iron Age (ca. 1200-586 BCE) archaeological contexts are strongly associated with areas where bread and other foods were prepared and consumed. In this presentation, I will discuss the evidence for feeding the gods in Israelite houses, the house of YHWH, and other contexts, and suggest that the ritual importance of bread in ancient Israel began with women's food offerings to household deities.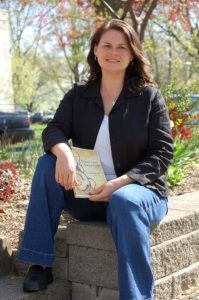 Jennie Ebeling (University of Evansville)
Jennie Ebeling is associate professor of archaeology at the University of Evansville in Indiana and co-director of the Jezreel Expedition. A former Fulbright fellow, she has been awarded fellowships from the National Endowment for the Humanities and the Lady Davis Trust to support research in Israel and Jordan. Her research interests include ancient food and drink technology, women in Canaan and ancient Israel, and religion and cult in the Bronze and Iron Age Levant, and her publications include Women's Lives in Biblical Times (2010) and the edited volumes The Old Testament in Archaeology and History (2017) with J.E. Wright, M. Elliott, and P.V.M. Flesher, Household Archaeology in Ancient Israel and Beyond (2011) with A. Yasur-Landau and L. Mazow, and New Approaches to Old Stones: Recent Studies of Ground Stone Artifacts (2008) with Y. Rowan. She produced several films based on her ethnographic research of traditional bread ovens in Jordan; one is on permanent exhibit in the Eretz Israel Museum in Tel Aviv. Ebeling served as Vice President (Membership) of ASOR and was an ASOR Trustee for ten years; in 2013 she was awarded the Charles U. Harris Service Award in recognition of her long term service to ASOR. She teaches a variety of courses in Near Eastern archaeology at the University of Evansville and her excellence in undergraduate teaching was recognized with the Dean's Teaching Award (2011) and Outstanding Teacher of the Year Award (2014).
Moderator: Aaron Burke (UCLA)
Archaeology of Ancient Israel Lecture Series
Sponsored by the
UCLA Alan D. Leve Center for Jewish Studies
Cosponsored by the
UCLA Department of Near Eastern Languages and Cultures
UCLA Cotsen Institute of Archaeology
UCLA Center for Near Eastern Studies