At the end of WWII, more than 250,000 Jewish refugees lived in DP camps in Germany, Austria and Italy which were set up under the aegis of the UN and the Allied Forces, with the support of international Jewish organizations. Since 2000, Fabrizio Lelli has been collecting documents and personal testimonies from former refugees in the Apulia region of southern Italy. Traumatized, unable or unwilling to return to their former homes, many were stuck in a Mediterranean limbo, trying to recover from the war but without knowing where they would—or could—go next. Through his Jewish Refugees in Apulia project, Lelli has published the moving stories of 36 refugees on his website. His work also played a role in convincing an Italian municipality to preserve three murals painted by a Jewish refugee in a building slated for demolition.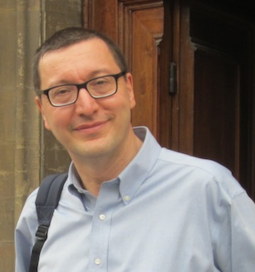 Fabrizio Lelli
(U. of Salento, Italy)
Viterbi Lecture in Mediterranean Jewish Studies
On the occasion of Italy's Holocaust Remembrance Day 2015
Sponsored By the:
UCLA Center for Jewish Studies
Cosponsored By the:
Italian Cultural Institute of Los Angeles
UCLA Department of Italian
About the Speaker:
Fabrizio Lelli is Associate Professor of Hebrew Language and Literature at the University of Salento (Lecce, Italy). His main field of research focuses on the philosophical and mystical literature of late Medieval and Early Modern Italian Jewish authors and on the intellectual relations between Jewish and Christian scholars in the Italian Renaissance. He is currently a visiting fellow at the Hebert D. Katz Center for Advanced Judaic Studies, U. of Pennsylvania.