Bad Rabbi (Stanford UP, 2017) is an underground history of downwardly mobile Jews from the seamy underbelly of New York and Warsaw, the two major centers of Yiddish culture before WWII. With true stories plucked from the pages of the Yiddish papers, Portnoy introduces drunks, thieves, murderers, wrestlers, poets, and beauty queens whose misadventures were immortalized in print.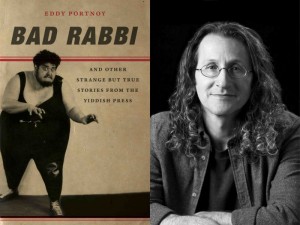 EDWARD PORTNOY (Rutgers)
Edward Portnoy received his Ph.D. from the Jewish Theological Seminary. His dissertation was on cartoons of the Yiddish press. He also holds an M.A in Yiddish Studies from Columbia, having written on artists/writers Zuni Maud and Yosl Cutler. His articles on Jewish popular culture phenomena have appeared in The Drama Review, Polin, and The International Journal of Comic Art. In addition to speaking on Jewish popular culture, Portnoy has consulted on museum exhibits at the Museum of the City of New York, Musée d'art et d'histoire du judaïsme in Paris, and the Joods Historisch Museum in Amsterdam.
Featuring a performance by the
UCLA Klezmer Ensemble
Moderator:
Sarah Abrevaya Stein
Sponsored by the
UCLA Alan D. Leve Center for Jewish Studies
Cosponsored by the
UCLA Department of English
UCLA Department of Germanic Languages