This event focused on two recently published books: the first, Jewish History: A Very Short Introduction (Oxford, 2017), offers a concise account of the entire course of Jewish history in 100 pages; the second, The Stakes of History: On the Use and Abuse of Jewish History (Yale, 2018), is an argument for the study of history, and especially Jewish history, as an anchor of memory and indispensable ingredient for informed civic engagement. The dialogue will focus on the intersecting themes of the two books, which together reveal the pleasures and payoff for studying Jewish history.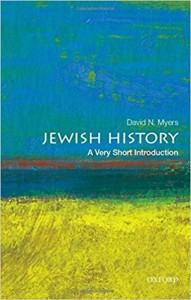 DAVID N. MYERS (UCLA)
David N. Myers is the incoming President and CEO of the Center for Jewish History in New York and is the Sady and Ludwig Kahn Professor of Jewish history at UCLA. His previous books include Between Jew and Arab: The Lost Voice of Simon Rawidowicz (Brandeis UP, 2008) and Resisting History: Historicism and its Discontents in German-Jewish Thought (Princeton UP, 2003). Myers is also completing a book with Nomi Stolzenberg on the Satmar Hasidic community of Kiryas Yoel, New York.
Moderator: Todd Presner
Respondents: Deborah Hertz (UCSD) & Sarah Abrevaya Stein (UCLA)
Sponsored by the
UCLA Alan D. Leve Center for Jewish Studies
Cosponsored by the
UCLA Department of History
UCLA Department of Near Eastern Languages & Cultures
UCLA Center for European and Eurasian Studies
UCLA Center for Near Eastern Studies