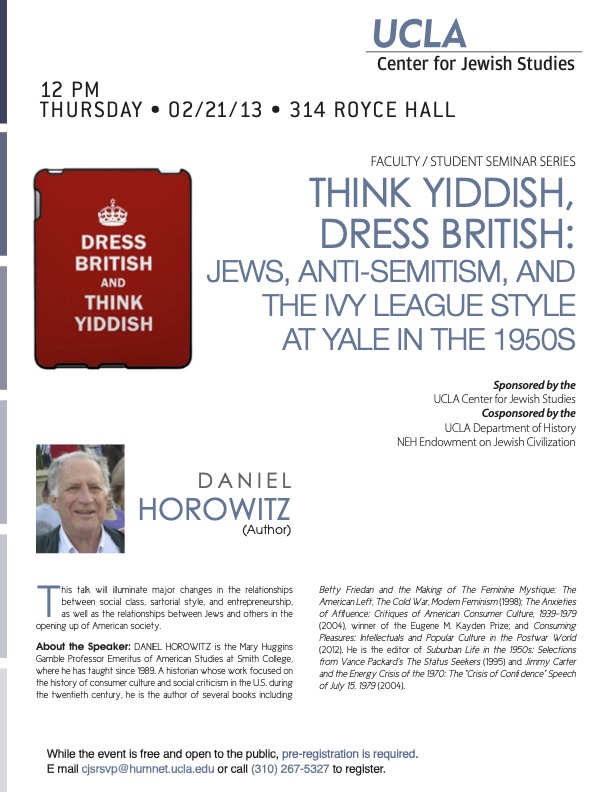 This talk will illuminate major changes in the relationships between social class, sartorial style, and entrepreneurship, as well as the relationships between Jews and others in the opening up of American society.
About the Speaker: DANIEL HOROWITZ is the Mary Huggins Gamble Professor Emeritus of American Studies at Smith College, where he has taught since 1989. A historian whose work focused on the history of consumer culture and social criticism in the U.S. during the twentieth century, he is the author of several books including
Betty Friedan and the Making of The Feminine Mystique: The American Left, The Cold War, Modern Feminism (1998); The Anxieties of Affluence: Critiques of American Consumer Culture, 1939-1979 (2004), winner of the Eugene M. Kayden Prize; and Consuming Pleasures: Intellectuals and Popular Culture in the Postwar World (2012). He is the editor of Suburban Life in the 1950s: Selections from Vance Packard's The Status Seekers (1995) and Jimmy Carter and the Energy Crisis of the 1970: The "Crisis of Confidence" Speech of July 15, 1979 (2004).