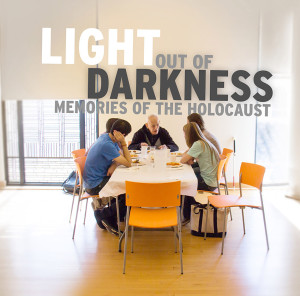 Who knew that a freshman seminar could be life changing? When Andrew Rosenstein enrolled in Germanic Languages and Comparative Literature Professor Todd Presner's seminar, Between Memory & History: Interviewing Holocaust Survivors in the Digital Age, in Winter 2012, he couldn't imagine how the opportunity of meeting with a survivor over the course of the quarter would impact his college career.
Light out of Darkness, Rosenstein's senior project in Film and Television, documented together with Fawad Assadullah, screened on May 20 in UCLA's Darren Star Theater in Melnitz Hall. Running just under two hours, the film is dedicated to the memory of Sophie Hamburger, the survivor with whom Rosenstein worked, and whose compassion inspired him so much, when he was 19 and she was 92. The film premiere was sponsored by the UCLA Alan D. Leve Center for Jewish Studies and cosponsored by the Jewish Federation of Greater Los Angeles.
Light out of Darkness tenderly documents the loves-both lost and found- of 18 Holocaust survivors from the Los Angeles area who have participated in Bearing Witness, a joint project of Hillel at UCLA and the Alan D. Leve Center, of which Presner is the Sady and Ludwig Kahn Director. Bearing Witness began as a Hillel student initiative in 2007 (Presner's class joined the next year), and it has grown steadily ever since. Like Sophie, most of the survivors in the film are members of Jewish Family Service of Los Angeles Café Europa, an organization focused on support and community for survivors, which is also a program partner.
Survivors whose stories are featured in the film include Eva Brettler, Kurt and Rosza Bronner, Mina Colton, Stella Esformes, Lya Frank, Natalie Gold, Allen and Dorothy Greenstein, Emil and Erika Jacoby, twin sisters Rita Kahane and Serena Rubin, Eta Moss, Julius Rothschild, Toby Tambor and Miriam Tasini. Most of the survivors are in their late 80s or early 90s, and one is 103 years old. Light out of Darkness provides intimate portraits of their lives before, during and after World War II. Ultimately, it illustrates their remarkable resilience as they began new lives in Los Angeles, while never forgetting their past.
Rosenstein and Assadullah first assembled 51 hours of raw footage filmed in the survivors' homes. Assadullah, a first generation American, sees parallels in the lives of the survivors with his own family's history, fleeing Afghanistan during the war with the Soviets. The film also benefited from editing by Esther Shubinski and Battiste Fenwick, the assistance of Los Angeles Museum of the Holocaust archivists Jillian Churchill and Hannah Franklin, and piano accompaniment by UCLA music student, Stephen Spies.
Presner's class, offered as part of UCLA's "service learning" initiative led by the UCLA Center for Community Learning, as well as the non-credit Bearing Witness program at Hillel, encourages students to reflect on their encounters with the survivors. Rosenstein has done a lot of reflection.
Rosenstein considers visual media, especially photography and film as ways to "see through the barrier of time, as survivors pass on their experiences, and students are engaged by those experiences. We see back through the blurred veil into the darkness, and we realize the necessity of ensuring that all future generations understand and learn from this history by making it a part of our shared history. As survivors tell their stories and as future generations pass on the knowledge of the Holocaust light emerges from the darkness. Through photography and film, it is possible to create a fragile bond that joins the past, present, and future."
Presner, who has advised Rosenstein since his first year at UCLA, noted that the film is not just about getting the story of the Holocaust. "It is foremost a film about the fragility of human relationships, our capacity for love, and the inevitability of the aging process itself. In eighteen spellbinding vignettes, three UCLA undergraduates have captured the human condition. It is a truly remarkable achievement."
Public screenings of the film are scheduled for the summer and fall at the UCLA Alan D. Leve Center for Jewish Studies and other venues.