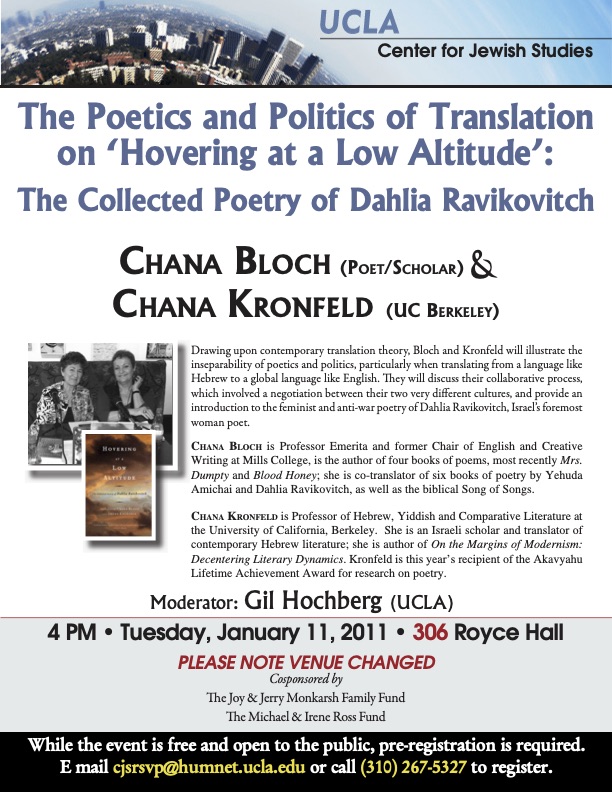 Drawing upon contemporary translation theory, Bloch and Kronfeld will illustrate the inseparability of poetics and politics, particularly when translating from a language like Hebrew to a global language like English. They will discuss their collaborative process, which involved a negotiation between their two very different cultures, and provide an introduction to the feminist and anti-war poetry of Dahlia Ravikovitch, Israel's foremost woman poet.
Chana Bloch is Professor Emerita and former Chair of English and Creative Writing at Mills College, is the author of four books of poems, most recently Mrs. Dumpty and Blood Honey; she is co-translator of six books of poetry by Yehuda Amichai and Dahlia Ravikovitch, as well as the biblical Song of Songs.
Chana Kronfeld is Professor of Hebrew, Yiddish and Comparative Literature at the University of California, Berkeley. She is an Israeli scholar and translator of contemporary Hebrew literature; she is author of On the Margins of Modernism: Decentering Literary Dynamics. Kronfeld is this year's recipient of the Akavyahu Lifetime Achievement Award for research on poetry.
Moderator: Gil Hochberg (UCLA)