This lecture examined the intensely ambivalent and paradoxical experiences of bourgeois Jews who found refuge in the "Orient" of India and Iran after 1933. On the margins of their collapsing and devastated Jewish European world, they lived as hybrids, themselves on the margins, expat, emigré, enemy alien, and refugee, caught uneasily, more or less comfortably, between colonizer and colonized, expelled from the "West" but never really leaving it behind. Drawing on an extensive collection of family correspondence and memorabilia from both Iran and India (1935-1947), as well as other sources, Grossmann probes refugees' understanding of their own unstable position, the changing geopolitical situation, and their efforts to come to terms with emerging revelations about the destruction of European Jewry.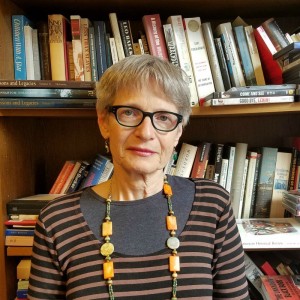 ATINA GROSSMANN (The Cooper Union for the Advancement of Science and Art)
Atina Grossmann teaches Modern European and German history, and Women's and Gender Studies at the Cooper Union for the Advancement of Science and Art. A graduate of the City College of New York (B.A.) and Rutgers University (M.A., Ph.D.), she has held fellowships from the National Endowment for the Humanities, German Marshall Fund, American Council of Learned Societies, Institute for Advanced Study in Princeton, and the American Academy in Berlin, as well as Guest Professorships at the Humboldt University Berlin and the Friedrich Schiller University in Jena.
Sponsored by
UCLA Alan D. Leve Center for Jewish Studies
Cosponsored by
UCLA Department of Germanic Languages
UCLA Iranian Studies