This event celebrated the release of The Holocaust and North Africa, edited by Leve Center faculty Professors Aomar Boum and Sarah Abrevaya Stein. The Holocaust is usually understood as a European story. Yet, this pivotal episode unfolded across North Africa and reverberated through politics, literature, memoir, and memory—Muslim as well as Jewish—in the post-war years. The Holocaust and North Africa offers the first English-language study of the unfolding events in North Africa, pushing at the boundaries of Holocaust Studies and North African Studies, and suggesting, powerfully, that neither is complete without the other. The essays in this volume reconstruct the implementation of race laws and forced labor across the Maghrib during World War II and consider the Holocaust as a North African local affair, which took diverse form from town to town and city to city. They explore how the Holocaust ruptured Muslim–Jewish relations, setting the stage for an entirely new post-war reality. Commentaries by leading scholars of Holocaust history complete the picture, reflecting on why the history of the Holocaust and North Africa has been so widely ignored—and what we have to gain by understanding it in all its nuances.
 The Holocaust and North Africa has been named a "must read book" of 2018 by the Organization of Holocaust Associations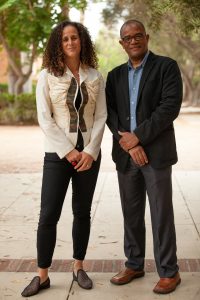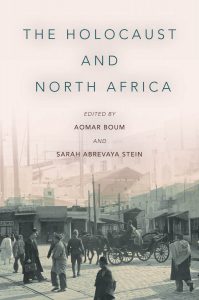 Aomar Boum is an associate professor in the Department of Anthropology at the University of California, Los Angeles. He is interested in the place of religious minorities such as Jews, Baha'is, Shias, and Christians in post-independence Middle Eastern and North African nation states. He is the author of Memories of Absence: How Muslims Remember Jews in Morocco (2013).
Sarah Abrevaya Stein is Professor of History, Maurice Amado Chair in Sephardic Studies and Sady and Ludwig Kahn Director of the Leve Center. She is the author, most recently, of Extraterritorial Jews: European Citizenship, Sephardi Jews, and the Ottoman Twentieth Century (2016), winner of a National Jewish Book Award.
Moderator: Susan Slyomovics (UCLA)
Sponsored by the
UCLA Alan D. Leve Center for Jewish Studies
Cosponsored by the
UCLA Center for Near Eastern Studies
UCLA Department of Germanic Studies
UCLA Department of Anthropology
UCLA Department of History
UCLA African Studies Center
Funding Provided by
The 1939 Society
The Maurice Amado Program in Sephardic Studies