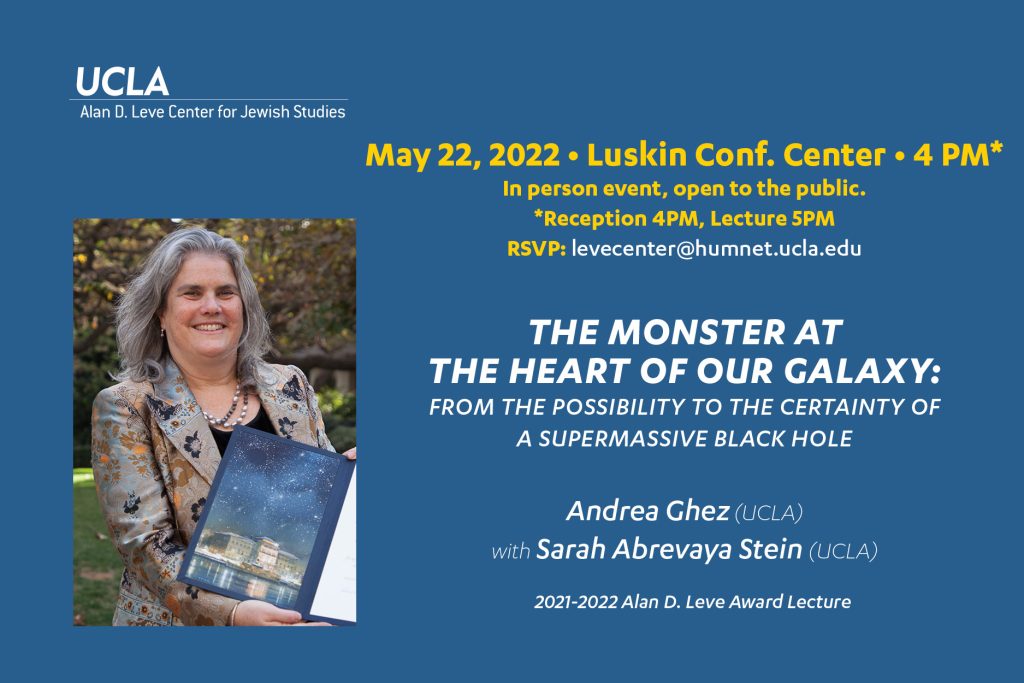 Nobel laureate Andrea Ghez will deliver the 2022 Alan D. Leve Award Lecture "The Monster at the Heart of Our Galaxy: From the Possibility to the Certainty of a Supermassive Black Hole" on Sunday, May 22. A reception at 4 p.m. and Ghez's remarks at 5 p.m. will be open the public at the UCLA Luskin Conference Center.
Ghez, UCLA professor of Physics & Astronomy and Lauren B. Leichtman & Arthur E. Levine chair in Astrophysics, is one of the world's leading experts in observational astrophysics and heads UCLA's Galactic Center Group.
Her work on the orbits of stars at the center of the Milky Way has opened a new approach to studying black holes and her group is currently focused on using this approach to understand the physics of gravity near a black hole and the role that black holes plays in the formation and evolution of galaxies.
Ghez was chosen by UCLA's Alan D. Leve Center for Jewish Studies's Advisory Board and Faculty Advisory Committee to receive the 2022 Leve Award. Supported by an endowment from Alan D. Leve, this biennial award recognizes and celebrates the contributions made by a person whose ideas, values or accomplishments have had a positive impact on the world, the Jewish community and our humanity. Previous award recipients include Rabbi Elliot Dorff and award-winning scholar, curator and author Barbara Kirshenblatt Gimblett.
"We are proud to honor such a giant in her field and to hear more about the path-breaking work of Dr. Ghez," says Sarah Abrevaya Stein, UCLA's Viterbi Family Endowed Chair in Mediterranean Jewish Studies as well as the Sady and Ludwig Kahn Director of the Alan D. Leve Center for Jewish Studies. "Dr. Ghez exemplifies the excellence and ideals of this award and the Leve Center itself."