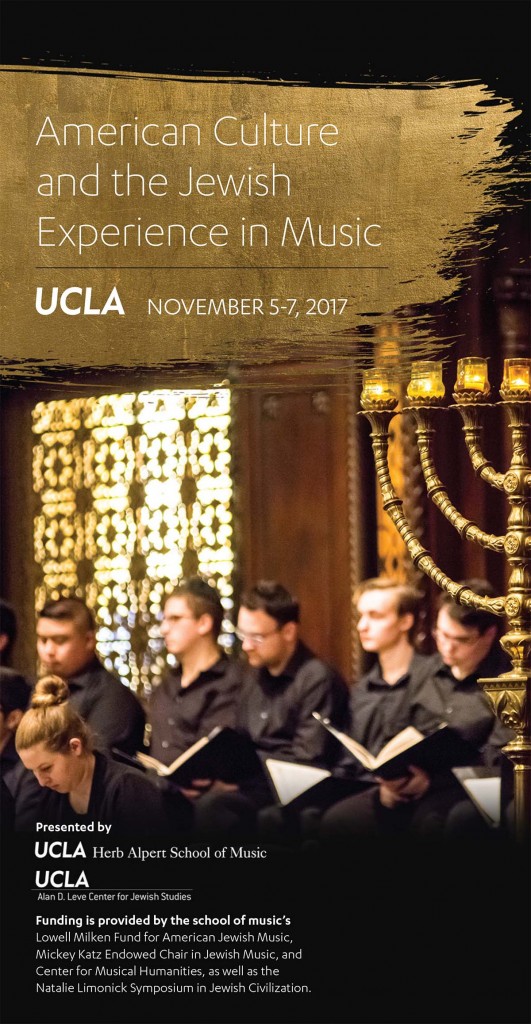 presented by
The UCLA Herb Alpert School of Music and
The UCLA Alan D. Leve Center for Jewish Studies.
Funding is provided by the school of music's Lowell Milken Fund for American Jewish Music, the UCLA Mickey Katz Endowed Chair in Jewish Music, the Center for Musical Performance, The Drs. David and Irmgard Dobrow Fund for Performance, the Center for Musical Humanities
and The Natalie Limonick Symposium in Jewish Civilization
America has offered the Jews a chance at unlimited musical expression, from sacred song to the stage, screen, and concert hall. This conference covers some major intersections between Jewish creativity and American opportunity.
The conference opens on the evening of Nov. 5th with the premiere of David's Quilt, a work that explores the life of biblical King David, and concludes on Nov. 7th in the late afternoon with a historic re-creation of a recital first presented in 1945 at the Wilshire Ebell Theatre by Annaliese Landau, the first female Jewish musicologist to get a European doctorate. All music will be performed by UCLA students including the UCLA Chamber Singers.
Several panels will highlight some key facets of the Jewish-American musical experience.In the great immigrant wave (1880s-1920s), Jews brought older and newer forms of sacred music, Yiddish folk, popular, and theater song, and wedding music of the klezmer. Assimilation accelerated change, with recent revitalization in our times. Stressing local roots, two panels will cover Hollywood topics. On Monday Nov. 6, a morning panel will combine scholars and industry insiders to celebrate the work of the pioneering film composer Erich Korngold. In the evening Daniel Goldmark will chronicle the impact of the classic Al Jolson 1927 film, covering"100 Years of The Jazz Singer."
Jews also left their mark on American musical theater. A panel of scholars will look at the impact over time of Fiddler on the Roof, a show still vital after 50 years. This session will be followed by a presentation of Jewish-themed musical scenes by UCLA Musical Theatre students. Paralleling Broadway, the Yiddish theater filtered both European roots and American innovation through the aesthetic of a Jewish vernacular language. A panel will highlight period sounds and their recent reconstruction.
---
SUNDAY, Nov. 5, 2017 | Steven S. Wise Temple
"David's Quilt" a new work
Performance of new work by Los Angeles based composers and UCLA faculty and students working together with the Max Helfman Institute
7:00 Stephen S Wise Congregation
Performers: LA Cantors, UCLA Instrumentalists, and UCLA Choir
TO RSVP TO SUNDAY PERFORMANCE CLICK HERE
---
MONDAY, Nov. 6, 2017 | UCLA Luskin Conference Center
9:00-9:15 Welcoming Remarks: Mark Kligman and Todd Presner
9:15-10:30 Session 1: Jews and the LA Music Industry
Chair: David Lefkowitz (UCLA)
Bryan Gilliam (Duke University) "Erich Wolfgang Korngold's Double Exile in America"
Panel Discussion with:
Holley Replogle-Wong (UCLA)
Richard Friedman (Richard Friedman Music, Inc.)
Michael Sigman (Writer and Media Consultant)
10:45-11:30 Session 2: Advancing Jewish Music in America: the Lowell Milken Fund and the Milken Archive
Speakers: Dean Judi Smith, Lowell Milken
Jeff Janeczko (Milken Archive) "Discovering a World of American Jewish Music: An Introduction to the Milken Archive"
11:40-12:30 Session 3: Keynote Address
Mark Slobin (Wesleyan) "Jewish American Music: The Long View"
12:30-2:00 Lunch Break*
2:00-3:30 Session 4: Sacred Song and Music of the Past: Tradition and Innovation
Chair: Steve Loza (UCLA)
Judah Cohen (Indiana University) "Singing Societies and Choral Music in the Nineteenth Century American Synagogue"
Mark Kligman (UCLA) "The Authenticity and Authority of Ashkenazic and Sephardic Traditions Brought to America"
Walter (Zev) Feldman "Human Transmission and Musical Sources for Klezmer Music in America: ca. 1960-2000"
Discussant: Lillian Wohl (UCLA)
4:00-5:30 Session 5: Jewish Musical Interactions with Popular Media
Chair: Robert Fink (UCLA)
Daniel Goldmark (Case Western University) "What Jewish Culture Sounded Like in Early 20th Century Media"
Mitchell Morris (UCLA) "The Three Jewish Lives of Sophie Tucker"
Josh Kun (USC) "The Jewish Tinge of Latin American Musical Modernism in Los Angeles"
6:00 Dinner Break
7:30 "100 Years of The Jazz Singer" presentation by Daniel Goldmark (Case Western University)
Chair: Raymond Knapp (UCLA)
The Jazz Singer has consistently helped to define and redefine popular ideas about the sounds of Jewish culture and worship in Hollywood. This presentation will look at the many films, cartoons, and television shows that have grappled with the story of the cantor's son who makes it big on Broadway.
---
TUESDAY, Nov. 7, 2017 | 314 Royce Hall, UCLA
9:00-10:45 Session 6: Afterlife of Fiddler on the Roof
Chair/Discussant: Judah Cohen (Indiana University)
Jessica Hillman-McCord (SUNY Fredonia) "Echoes of the Holocaust on the American Musical Stage: Fiddler on the Roof and Beyond"
Jake Johnson (Oklahoma City University) "A Stranger in a Strange Land: The Mormon Tevye"
Raymond Knapp (UCLA) "Falsettos in the Shadow of Fiddler on the Roof: Reconsidering Jewish Identity on Broadway in the New Millennium"
11:00-11:45 Musical Scenes Based on Jewish Topics performed by students form the Ray Bolger Theater Program, UCLA Department of Theater
12:00 Lunch Break*
1:30-3:00 Session 7: The Language of Yiddish Theatre: Translating Within and Without Yiddish Theatre in America with live musical examples
Chair: Miriam Koral (UCLA, Director of California Institute for Yiddish Culture and Language)
Daniela Smolov Levy (Independent Scholar) "High Culture for the Lower East Side: Grand Opera in Yiddish."
Mark Slobin (Wesleyan) "Creative Restoration of Early Yiddish Musical Theater"
4:00 Final Program
Anneliese Landau, the Jewish Centers Association, and the International Composers Concert, April 24, 1945
Chamber Music concert with commentary by Lily Hirsch (Bakersfield) Recreation of 1945 Wilshire Ebell Program on Jewish Music including works of: Ernst Toch,Erich Korngold, Arnold Schoenberg, Maurice Ravel and Louis Gruenberg Performed by UCLA Herb Alpert School of Music Students
Tuesday Nov. 7th Recital Program
"Jewish Composers in Los Angeles"
Chamber Music concert with commentary by Lily Hirsch (Bakersfield)
"Annaeliese Landau: Re-creation of April 24, 1945 Wilshire Ebell Program on Jewish Music"