The Alan D. Leve Center mourns the death of Al Finci (1929-2020), a longtime friend and supporter of Jewish Studies at UCLA, a Leve Center Board Member since 2007 and Board Chair since 2009. A man of great kindness, wit, and wisdom, with a passion for learning and a commitment to Jewish Studies, to public education, and to UCLA, Al had, most of all, an abiding love for family.  Al's cherished family included his wife of sixty-five years, Rose, their children, daughters- and son-in-law, and six grandchildren—Joe, Audrey, Rachel and Alex Finci; Jeff, Shelley, Jordan and Brian Finci; and Helen, Jeff, Suzie and Zachary Rosenberg—as well as his late sister Erna z"l, her husband, Andrew Viterbi, and their children and grandchildren.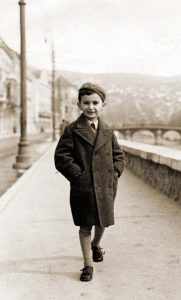 Al Finci, known to intimates as Shiro, was born in 1929 in Sarajevo, to a distinguished family of Sephardic rabbis.  His father and uncle owned a famous bookstore and publishing house that was a cultural hub of this dynamic, multicultural city.  It was there, as a child, that Al first met Rose Stock, an immigrant from Drohobych, Poland and his future wife.
The war upended the teenagers, their families, their education, and the urbane world they once knew.  The Fincis and Stocks fled to Italy, where their paths diverged.  Al's family was interned in Gramignazzo di Sissa, where they were cared for by the local Ponghellini family, who hid them in their vineyard when German forces advanced into Italy.  The family fled again, to Switzerland, walking across the Alps on foot in the middle of the night. Rose and her family, after internment on the island of Rab, joined the Yugoslav resistance.
Al met Rose again after the war's end, in the displaced person's camp on Santa Maria di Bagni, where their families became friends. In 1947, the families went together to Rome for work, schooling, and to seek exit visas.  The future couple were, however, divided again, with Rose's family traveling to New York and Al's to Los Angeles.  There, Al earned a high school diploma and a draft letter from the U.S. Army.  With a war afoot, Al might have served in Korea, but his native knowledge of Serbo-Croatian positioned him to teach the language to intelligence personnel at the Army Language School in Monterey.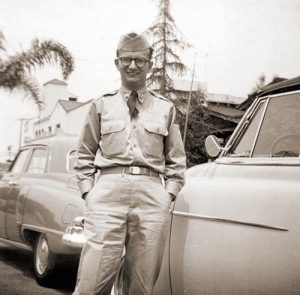 Stationed in Fort Meade, Maryland, Al was stunned to encounter Rose's brother Joe, and so the path of the Stocks and Fincis converged again.  Al returned to Los Angeles after the war, enrolled in UCLA with the support of the GI Bill.  He completed his degree in three years, graduating in 1956 with highest honors and earning induction in Phi Beta Kappa.  Soon after, Rose and Al were married and had three children (Joe, Jeff, and Helen) over five years' time.  Al became an accountant at the Seidman & Seidman firm, where he was a partner, Board of Directors, member and, later, Vice Chair of BDO International after that firm acquired Seidman & Seidman.
In Los Angeles, Al and Rose cultivated long-lasting friendships with other Jewish émigrés, including Andrew Viterbi, husband to Al's beloved sister Erna, and Sam and Gertrude (Gerti) Goetz, through whom Al and Rose first became involved with the UCLA Alan D. Leve Center for Jewish Studies.
Seeing the destruction of Jewish culture fortified Al's desire to celebrate it in its living manifestations. With Rose, he was a dedicated partner of the Alan D. Leve Center for Jewish Studies at UCLA, playing a significant role in its growth as the Chair of the Community Advisory Board. Al was also a founding member of UCLA's Sephardic Archive Initiative Community Advisory Board, which recently launched a digital exhibit devoted to Rose and Al's extraordinary lives, which you may view here.
In recognition of Al's devotion to UCLA's Alan D. Leve Center, Rose and his children invite family and friends to make donations in his honor to the Leve Center, which you may do here.
We mourn the loss of Al Finci, and will greatly miss his joy for life, love of family, passion for history, and steady, intelligent partnership.  May his memory be for a blessing.