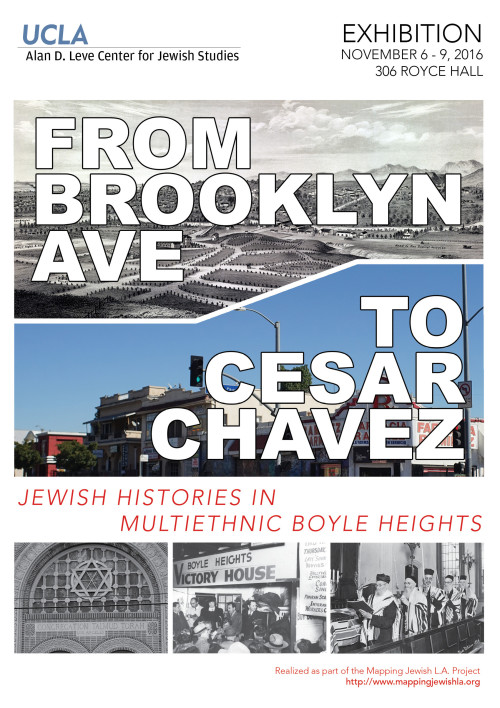 In Conjunction with the Launch of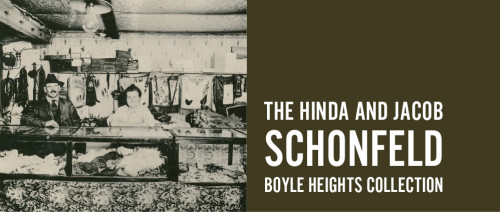 Brooklyn Avenue—named in 1876 to entice new residents from the east to settle in Los Angeles' Boyle Heights—was renamed to honor Cesar Chavez in 1994, reflecting the area's shifting demographics as well as its long history of community activism. Today, the neighborhood's main street embodies the contest between the golden dreams of neighborhood residents, real estate developers, and government leaders that has so influenced its history. Focusing on this single avenue to explore the neighborhood's Jewish histories, this physical and digital exhibition moves through both time and space, revealing the urban, social, economic, and cultural changes inscribed in Boyle Heights' layered histories.

In the 1930s, Boyle Heights was home to about a third of Los Angeles' Jewish population—some 10,000 households—and the highest concentration of Jews west of Chicago. Jewish community life flourished with dozens of synagogues, charitable institutions, cultural organizations, schools, community centers, and Jewish-owned businesses, from bakeries to movie theaters. This vibrant Jewish community emerged in a multiethnic context. As one of the most diverse neighborhoods in Los Angeles, Boyle Heights was also called home by tens of thousands of Mexican, Japanese, Armenian, Italian, Russian, and African-American families.
The exhibition highlights both the diversity of Jewish experiences in Boyle Heights and the ways in which this immigrant neighborhood was the seedbed for all its residents to forge new American identities. Using digital technologies and archival materials, it emphasizes five themes—Language and Literature, Religion and Community, Music and Arts, Education and Youth, and Labor and Activism—to show how Jews and other residents participated in civic life, and constructed community. The exhibition spotlights such key institutions as the Soto-Mission JCC, the Menorah Center, synagogues, the Jewish Home for the Aged, Mt. Sinai Hospital, and the Workman's Circle, and such key events as the opening of Hollenbeck Park, real estate redlining, high school student protests, and the construction of streetcar lines and freeways.
Grand Opening & Exhibition Schedule
Sunday, Nov. 6, 2016 • 306 & 39 Haines Hall
12PM: Exhibition Opening "From Brooklyn Avenue to Cesar Chavez: Jewish Histories in Multiethnic Boyle Heights"
2pm: Screening of "East LA Interchange" followed by a conversation between Betsy Kalin (Director) and past Boyle Heights residents Leo Frumkin and Don Hodes.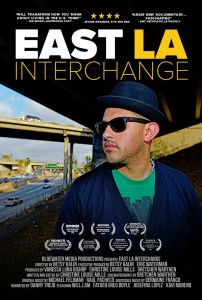 East LA Interchange tells the story of working-class, immigrant Boyle Heights, the oldest neighborhood in East Los Angeles. Targeted by government policies, real estate laws, and California planners, this quintessential immigrant neighborhood survived racially restrictive housing covenants, Japanese-American Internment, Federal redlining policies, lack of political representation, and the building of the largest and busiest freeway interchange system in the nation, the East L.A. Interchange.
More on the film: http://www.eastlainterchangefilm.com/
Monday, Nov. 7, 2016 • 306 & 314 Royce Hall
10am – 4PM: Exhibition open for Viewing
4PM – 6PM: Open House
Tuesday, Nov. 8, 2016 • 306 Royce Hall
10am – 4PM: Exhibition open for Viewing
Wednesday, Nov. 9, 2016 • 306 Royce Hall
10am – 3PM: Exhibition open for Viewing